Winston Churchill Blvd. and Bush St
L7K 1E3
Get Directions →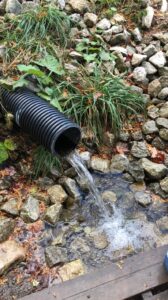 Description
It has a plastic spout, pouring out into a creek. It looks like it's in good condition, not sure if someone is looking after it though. People in the area do drink from it (and me!).
From Mo Rosati: I returned here Nov 12, 09 to get some readings. All indicators tells me this water source is an artesian well also ( though it might be natural instead of man-made like Ancaster Arestian Well ). On the west side I measured TDS 334, pH 7.53, temp 8.4C on the east side I measured TDS 355, pH 7.38, temp 6.9C. Compare this to Ancaster TDS 190, pH 8.14. I took a water sample of Belfountain and it came back ZERO on both Total Coliform & E. Coli, same as the Ancaster source, so they are BOTH very clean ( more info: http://bit.ly/Es26R ). Compare this to TRUE natural spring eg. TDS: 23 Temp: 6.7 C pH: 5.58
Nearest Address

Winston Churchill Blvd. and Bush St., Belfountain, Ontario
Directions from Nearest Address

Once you get to the intersection of Winston Churchill and Bush, go NORTH (not south on the map below) and the road will go down a hill. There will be a guard rail on both sides. The spring is located on the left side (west) and at the end of the rail (to the north). Go down the hill off the road and she's waiting for you! Enjoy!
Vital Information
Fee: None
Access: Public
Flow: Continuous

TDS: 334-355
Temp: 6.9 – 8.4 C
pH: 7.38 – 7.53
Hours Spring is Open:
Unknown
GPS:
N/A
Map Link: Belfountain Beauty Spring Map
Submitted by: Kevin and Amber, Mo Rosati