Hwy #7 West
Agassiz, BC V0M 1A0
Get Directions →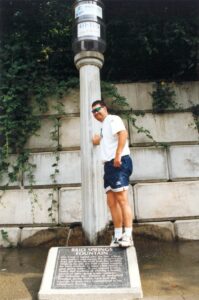 Description
Mountain runoff coming through pvc piping. Fresh clean amazing cold water!
This water is fantastic! It's free and can be busy on the weekends. I've met and talked to others who have been drinking it for the last year or so. Some have tested the quality and say it's very good.
Nearest Address

From Mission, 30 minutes East on Hwy 7, on the side of the mountain. From Abbotsford, if taking Hwy #1, about 1 hour. Take Bridal Falls exit past Chilliwack and follow signs for Hwy #7 West. Its marked by a yellow sign on a post on the side of the hwy.
Directions from Nearest Address

From Hwy #1 heading East, take Bridal Falls exit #135, about 10 minutes past Chilliwack. Pass Minter Gardens and follow the signs for Hwy #7 West for another 15 to 20 minutes. You'll go through a small town called Agassiz. Eventually, you'll pass a huge dairy farm on the right and the road will start to take you up a mountain. The spring is 3-4 minutes from the dairy farm. Look for a yellow sign on a post as the spring is kind of hidden (see pix). There's room for a few vehicles to pull over on the side right next to the spring. Apparently there used to be a big statue that spouted water out but they took it down a while ago. If you're coming from Mission, take the #7 East; it's about a 30 minute drive. The spring will be on your left; if you descend the mountain, you've gone too far and passed it! Look for the little yellow sign on the post.
Vital Information
Fee: None
Access: Public
Flow: Continuous

TDS: N/A
Temp: N/A
pH: N/A
Hours Spring is Open:
24/7/365
GPS: N/A
Submitted by: Andrea Wiens