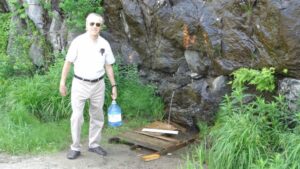 Description:
A pipe emerging from a rock face on the Side of the highway 329.
This Spring has a TDS of 9! This is incredibly low. There are several Springs in this area, all of which are of extremely high quality!
Nearest Address

Rt 329
Directions from Nearest Address

Headed North on the Highway 15 from Montreal, take exit 83. Trun Left of of the ramp, pass through 2 stop signs. At the end of this road, turn Left onto Highway 329 (headed South) for 5.9 K (3.7 miles). The Spring is on your Left. There is a pull off area across the street.
Vital Information
Fee: No Fee
Access: Public
Flow: Continuous

TDS: 9
Temp: 10 C
pH: 7.0
Hours Spring is Open:
24/7/365
GPS: N/A
Map Link: Ste Agathe Des Monts Spring Map
Submitted by: Daniel Vitalis